After reading about the exciting trip to the Zoo on Sally's blog and seeing Mike's great photo I decided I really did need to blog a bit, even if it won't be nearly as exciting. In fact. It will be down right boring. You have been warned.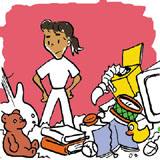 My sewing room looks like a bomb went off in it. Eric said I was trying to stuff 10 pounds in a 5 pound sack. I found that a bit offensive and not totally accurate, but I know what he means. I am getting pretty cold hearted about what I am keeping but it's funny when you see something and wonder where it
even
came from. Other things are full of memories, like my Tiny Tears doll. Yes, I still have her and my Toni doll, and oh yes, Raggedy Anne is there too. All too precious to give up. I thought I had found every photo and negative from at least 30 years, and then I found another whole box. I am going to be going through pictures for years.
Surprisingly, I have more gardening books than knitting or quilting, that surprised me. I started a box for the library and added quite a few cookbooks. I kept all my Chinese cookbooks and filled one short bookshelf in the kitchen. If it didn't fit, it went to the library.
So, though the box pile is getting smaller, and I don't think there are too many more real
sewing
things to go in to the Sewing Room, there's plenty of personal stuff to sort, things from Brazil, smocking things to be itemized to try to sell, and the list goes on.